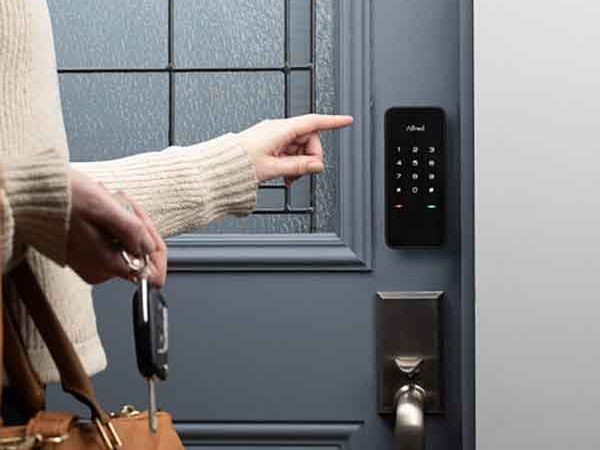 Front door locks have been part of the human civilization for centuries as they provide a sense of safety and security. Like all other aspects of the life, technological innovations have also greatly impacted the door locks in various ways. This is why the amount of available locks is overwhelming to choose from.
While selecting a front door lock for your home or office, always make sure that one you've chosen has an ANSI grade before you install it. Commonly used grade 3 locks are not as secure as grade 2 or grade 1 locks. Choosing a higher grade lock also provides you with peace of mind that you need as a security-conscious person.
Let's take a look at some of the best-rated locks in 2020.
Kwikset 991 Juno Entry Knob
The ANSI Grade 1 Kwikset 991 Juno is a top seller and no-nonsense lock with the highest grade of residential lock security. The lock is available in multiple finishes including antique, satin nickel, polished brass and bronze to match tone your home's existing hardware. This combo set is fairly easy to install and includes both the entry doorknob and a single cylinder deadbolt.
Kwikset 991 Juno features the famous smart Key system that allows you to rekey the locks quickly and easily at any time. Besides the lock bumping resistant mechanism, the lock comes with extra-long and sturdy kickplate bolts that make it hard to kick-in easily.
Schlage Connect Touchscreen Door Lock
For homeowners who are not willing to compromise security over style, ANSI grade 1 Schlage Connect Touchscreen is a perfect choice. The lock utilizes Z-Wave technology to connect to popular smart home systems like Wink and SmartThings and integrates well with Amazon Alexa through a compatible smart home hub. This feature gives you the convenience to remotely lock or unlock the door, see a log of activity, and host of other features depending on the smart home system device is connected to.
Of course, this lock grants keyless entry through a fingerprint-resistant screen that is explicitly designed to resist wear patterns and is a perfect fit for rental properties.
Schlage Camelot Keypad Entry with Flex-Lock and Accent Levers
Stop carrying keys and keep things simple with Schlage Camelot Keypad Entry with Flex-Lock. The exterior handle of the lock is paired with a keypad that enables you to configure unique entry codes and unlock the door without keys.
Two standout points of Schlage Camelot are its easy installation and a flex-lock, which allows you to keep the door unlocked. The lock comes with two pre-programmed unique codes which make the initial set-up super easy.
This model features 9V battery housed inside the lock so that extreme temperatures have minimum impact on battery life. However, if battery life is not optimal, it may be because of Power Locking, which activates if the lock cylinder is having trouble making a smooth transition to the lock position.
Kwikset Belleview Handleset
The elegant and stylish Kwikset Belleview Handleset adds value to the exterior of the home. This set comes with a curved handle and deadbolt for exterior access and a simple interior doorknob and deadbolt thumb turn. Packaging also includes all the screws and plates necessary to install it.
The ANSI Grade 3 is a deadbolt-only door lock that lacks a locking mechanism which means you will have to use your key to lock the door each time you go out. However, you can easily rekey the lock using Kwikset's SmartKey mechanism.
Kwikset 660 Single Cylinder Deadbolt
A deadbolt is a traditional way to secure your homes, and the Kwikset 660 deadbolt is a venerable option. As a single cylinder deadbolt, it can only be opened with a key operated from the outer side of the lock, while a thumb turn controls the lock from the inside. This ANSI grade 3 no-nonsense deadbolt supports SmartKey technology and comes in multiple finishes to match the tone and texture of existing hardware.
Looking to fortify your home security with a top-rated lock? We are here to help. Locksmith Northridge provides same-day entry door lock installation services in the greater Los Angeles area. Our team of insured and licensed experts provides guaranteed service right at your doorstep 24/7.